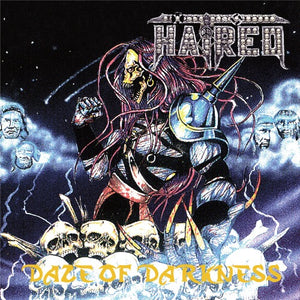 Huangquan Records
HATRED - Daze of Darkness (Demos '94-'96)
Regular price
$11.99
$0.00
Unit price
per
LABEL: Huangquan Records
Collection of the first two demos from Virginia's HATRED.  Thrashy Death Metal blending unique guitar arrangements ala Morbid Angel with the speedy ferocity and vocal stylings of Hellwitch.
CD comes packaged in a jewel case with a 6-page fold out booklet and OBI strip.
FOR FANS OF: Morbid Angel, Incantation, Hellwitch, Death
TRACK LISTING: -"SUFFER" (1996)-
1. Suffer
2. Reach Out
3.
Hatred With A Smile
4. Mass Genocide
-"DAZE OF DARKNESS" DEMO (1994)-
5.
Daze Of Darkness
6. Boligic Death
7. Evil
8. I Gaze
9.
Ripping Flesh
10.
Pulling The Reigns
---