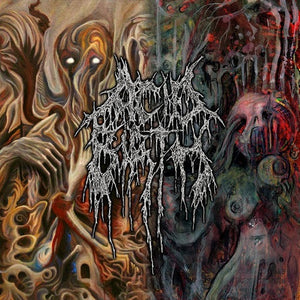 Memento Mori Records
ACID BIRTH - The Divine Grotesque / Pleasures of Flesh [Reissue]
Regular price
$10.99
$0.00
Unit price
per
LABEL: Memento Mori Records
A CD that compiles the two EP´s spawned by this up and coming, promising U.S. band so far, previously only available on digital since their late November 2021 release.
ACID BIRTH is an enigmatic two-piece act composed of Morg (guitars, bass, vocals) and Tomb (drums, vocals) that hails from the boggy swamps of New Orleans. Accordingly, their strain of Death/Doom Metal is drenched in miasmatic heaviness, wallowing in slime and emitting a moldy odor that shall delight the most demanding palates. Death and decay finds us all. Iniquitous indulgence taunts our minds. Revel in this savage world of ours amongst the rot and filth that ACID BIRTH provides.
FOR FANS OF: Gatecreeper, Apparition, Dismember, Entombed
TRACK LISTING:-"PLEASURES OF FLESH" EP (2021)-
1.
Reek Of My Own Putrefaction
2. Pig Whore
3. Pleasures Of Flesh
4.
Caverns Of Iniquity
5.
Submerged In Selfish Decay
-"THE DIVINE GROTESQUE" EP

 

(2021)-
6.
Putrid Decay... (Erotic Stench Of Death)
7.
Human Experiment!
8.
Realm VI: Infinite Darkness
9. Carnal Feast
10.
Grotesque = Divine
---