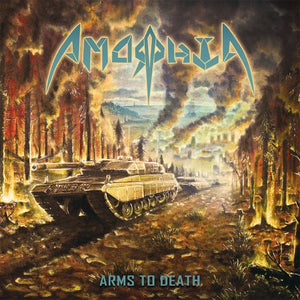 Awakening Records
AMORPHIA - Arms to Death [Reissue]
Regular price
$11.99
$0.00
Unit price
per
LABEL: Awakening Records
India thrash war machines AMORPHIA's debut assault, "Arms to Death", is 100% old school bestial aggression.
This merciless onslaught of pure thrash metal has received glowing reviews from all over the globe. "Arms to Death" is an auditory assault of 10 songs depicting necromantic prophecies, different types of warfare and war's effect upon the world.
CD packaged in a jewel case with 12 page booklet and OBI strip.
FOR FANS OF: Sodom, Kreator, Accuser, Sepultura
TRACK LISTING:
1. Intro
2.
Necromancers
3. Army Of Evil
4. Toxic Death
5. Camp 22
6.
Nuclear Warfare
7. Arms To Death
8. Airborne
9.
The Lieber Code
10. Master Of Death
---