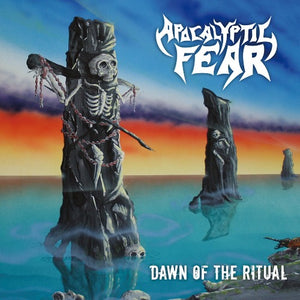 Awakening Records
APOCALYPTIC FEAR - Dawn of the Ritual + Decayed Existence ('92-'94 Demos)
Regular price
$11.99
$0.00
Unit price
per
LABEL: Awakening Records
The Canadian Death / Thrash Metal Metal band APOCALYPTIC FEAR was founded in 1991. The band released two demos, "Decayed Existence" and "Dawn of the Ritual" in 1992 and 1994. These two killer demos from the 90's have been officially reissued on a single CD by Awakening Records, including a lot of unpublished band photos and liner notes.
Dedicated to all maniacs obsessed with Old School Death Metal forged with heavy doses of Thrash!

CD packaged in a jewel case with 16 page booklet, dual artwork and OBI strip.
FOR FANS OF: Morbid Angel, (early) Pestilence, Sacrifice, Obliveon
TRACK LISTING:
-"DAWN OF THE RITUAL

" DEMO 

(1994)"-
1. Dawn Of The Ritual (Intro)
2. Mutilated By Sickness
3. Dying Age
4. The Execution
5. Mental Delirium
-"DECAYED EXISTENCE" DEMO (1992)"-
6. Drive Us To Hate
7. Psychic Death
8. Dimension Of Emptiness
9. Intoxicated
10. Vampire's Island
---