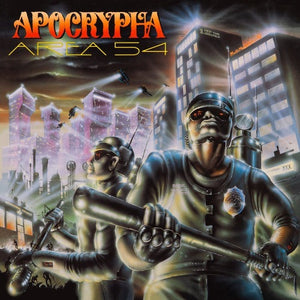 Divebomb Records
APOCRYPHA - Area 54 (Remaster)
Regular price
$13.99
$0.00
Unit price
per
LABEL: Divebomb Records
With new rhythm section Breck Smith (bass) and Dave Schiller (drums) having been enlisted to tour in support of 1988's The Eyes of Time, Las Vegas outfit APOCRYPHA—completed by guitarists Tony Fredianelli and Chip Chrovian with vocalist Steve Plocica—eventually regrouped to work on what would become the quintet's final album for Shrapnel Records: Area 54.
Helmed by Fredianelli alongside co-producers Mike Varney and Steve Fontano at Prairie Sun Recording Studios, Area 54 is arguably APOCRYPHA's finest outing—taking the band's foundation of technical and progressive metal into a noticeably darker and more thrash-centric direction. Similarly, the artwork and lyrics were inspired by ominous socio-political topics, well-suited against the album's intensified musical landscape.
Out-of-print for years but forever deserving of appreciation, Divebomb Records is proud to offer this officially licensed reissue of Area 54. Freshly remastered by Jamie King Audio, the CD—limited to just 1,000 copies—will come housed alongside an all-new 16-page booklet featuring band-supplied photos and tour memories; plus an interview with both Fredianelli and Schiller, looking back on the Area 54 era. For the fans, by the fans!
FOR FANS OF: Vicious Rumors, Cacophony, Reverend, Helstar
TRACK LISTING:
1. Terrors Holding On To You
2. Catch 22
3. A Night In Fog
4. The Power Elite
5. Insturbation #3
6. Area 54
7. Tian'anmen Square
8. The Detriment Of Man
9. Refuse The Offer That You Can't Refuse
10. Born To This World
---