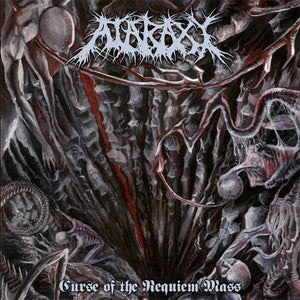 Memento Mori Records
ATARAXY - Curse of the Requiem Mass [Reissue] [OUT OF PRINT]
Regular price
$17.99
$0.00
Unit price
per
LABEL: Memento Mori Records
NOTE (8/13/23): This title is officially OUT OF PRINT as per Memento Mori Records. We have approximately 1 copy left in stock and then they're gone for good.
Official reissue of the 2010 EP by this already cult Spanish band.
Recorded, mixed and mastered by Javier Felez (of Graveyard fame) at his own Moontower Studios in Barcelona, "Curse of the Requiem Mass" features 6 tracks of putrid and foul-smelling Death Metal in the purest tradition of the early works of bands such as Asphyx, Autopsy, Morgoth and Immolation, with a pinch of the old school Swedish/Finnish vibe (think Depravity and Convulse).
As a very special bonus, this CD also includes their 2009 demo, "Rotten Shit", for a total of 45 minutes of aural filth and decay.

FOR FANS OF: Entombed, Dismember, Incantation, Depravity
TRACK LISTING:
1. The Breaking Wheel
2. Curse Of The Requiem Mass
3. The Last Stare
4. Bleed To Death
5. Hear The Ghouls
6. Undead's Attack
-"ROTTEN SHIT" DEMO (2009)-
7. Towards the Inquisitors Pyre
8. Sickening On Hatred
9. Rotten Shit
10. Damned By A Hidden Darkness
11. No Blood? Try Again!
---