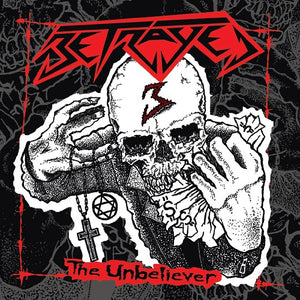 ThrashBack Records
BETRAYED - The Unbeliever
Regular price
$9.99
$0.00
Unit price
per
LABEL: ThrashBack Records (2021)
THRASHBACK RECORDS is pleased to announce the signing of Chile's BETRAYED. We will be issuing the bands first release outside of their native country, "THE UNBELIEVER", on January 22, 2021.
BETRAYED was formed in late 1987 in Valparaiso, Chile (the Countries second largest city, and once called "the little San Francisco" in the mid - 19th Century) by drummer Claudio Tapia.
In 1989, BETRAYED would record their first demo, titled "Our Option", which quickly garnered attention in zines around the globe and became a favorite among demo collectors and tape traders.
In 1990 the band would re-enter the studio and record their debut album, "1879: Tales Of War", for Oso Records which was produced by Anton Reisenegger (Pentagram, Fallout, Criminal, United Forces). Though BETRAYED garnered strong reviews and played many prominent shows, they would eventually disband in 1994.
In 2004 Claudio Tapia would begin to reform BETRAYED, but it wasn't until 2015-2016 that all the pieces fell fully into place and the present line-up was fully formed.
With the line-up of drummer Claudio Tapia, vocalist Erik Flores (Pyroclastic), guitarists JL Olmos (Soulrot) and Mauricio Castro (Sadistic Murder), and bassist Jacob Wilschrey (Soulrot), the band would unleash their first new music in over two decades with the single "Looters Will Be Shot".
In 2017 BETRAYED would begin recording more new material which would be realized as "The Unbeliever". These recordings would catch the attention of the Chile based label Arataria Records who would release the recordings in that region.
The sound of BETRAYED is Thrash Metal played the way it was meant to be, catchy & razor sharp. Stylistically, we would describe them as Bay Area Thrash (Testament, Exodus, Heathen, Forbidden) cross pollinated with a pinch of East Coast snarl.
"The Unbeliever" features 12 crushing tracks in two parts: "THE UNBELIEVER" and "BACK TO TALES OF WAR", with the latter being "live in the studio" re-recordings of songs from their past: 1989 "Our Option" demo, and the 1990 album release "1879: Tales Of War", all performed with their present line-up. Package features a 12-page booklet. LIMITED TO 250 UNITS!!!
FOR FANS OF: Testament, Exodus, Forbidden, Overkill, Heathen
TRACK LISTING:
-THE UNBELIEVER-
1. The Unbeliever
2. Panic Attack
3. Looters Will Be Shot
4. Constitution (Of The Oppressors)
5. Our Option
-BACK TO TALES OF WAR-
6. Fight For Your Land
7. The First Desillusion
8. The Message
9. Human Madness
10. 1879
11. The Real Me
12. Betrayed
---