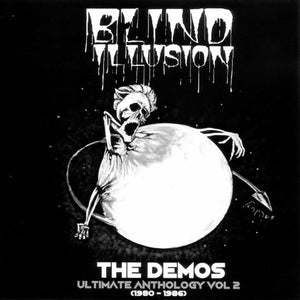 Cult Metal Classics Records
BLIND ILLUSION - The Demos 1980-1986 [Ultimate Anthology Vol. #2]
Regular price
$15.99
$0.00
Unit price
per
LABEL: Cult Metal Classics Records
This is the second volume of the epic BLIND ILLUSION demo series, covering the years from 1980 to 1986.

Volume 2 contains more than 70 minutes of music from these San Francisco pioneers, including the legendary "Trilogy of Terror" demo, plus the considered to be forever lost, "Darkness" demo.

The sound has been restored and remastered, so what you get to hear is the best version of all these classic BLIND ILLUSION tunes.
CD comes packaged in a jewel case with an 16-page booklet with liner notes by the guitar master Mark Biedernmann, lyrics and amazing photos from the old days of the band, all housed in a deluxe cardboard slipcase. Limited pressing of 500 units world wide.
FOR FANS OF: Realm, Heathen, Coroner, Anacrusis
TRACK LISTING:
-"DARKNESS" DEMO (1980)-
1. On Death's Bed
2. Kamakazi
-"FIRST" DEMO (1983)-
3. Arc the Iron
4. Blind Sun
-"SECOND" DEMO (1983)-
5. Race with the Wizard
6. Darkness
7. Concerto for a Dildo
-"DEATH NOISE" DEMO (1983)-
8. Death Noise
-"TRILOGY OF TERROR" DEMO (1984)-
9. Banshee
10. Glass Guillotine
11. Destroyer
-"BLOOD SHOWER" DEMO (1985)-
12. Blood Shower
13. Smash the Crystal
-"SLOW DEATH" DEMO (1986)-
14. Slow Death
15. Vengeance Is Mine
16. Bloodshower
17. Kamikaze

---