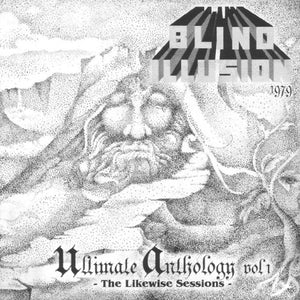 Cult Metal Classics Records
BLIND ILLUSION - The Likewise Sessions [Ultimate Anthology Vol. #1] (2-CD)
Regular price
$16.99
$0.00
Unit price
per
LABEL: Cult Metal Classics Records
Get ready for a unique piece of hard rock / metal history.
These are their very first recordings from Bay Area pioneers BLIND ILLUSION, remastered from the original master tapes, featuring a total of 14 songs, written at a time when the band members were averaging 16 years of age! Songs like "Kamakazi", "The Watcher", "Rockers Unite" and "Death Noise" will send shivers down your spine.
This band could and should have been really huge, but the problem was that they have always been way ahead of their time. Imagine that the songs and lyrics were written in 1979 and there are lyrics like the following: "Early pop has got to die, Progressive Metal is my reply!". This must be the very first reference to "Progressive Metal" and this is coming from nearly 42 years ago! Crazy!
CD comes packaged in an jewel case with an 16-page booklet with extensive liner notes, lyrics and comes in a deluxe Slipcase packaging. Audio has been remastered from the original master tapes and is limited to a pressing of 500 units world wide.

FOR FANS OF: Black Sabbath, (early) Judas Priest, Wishbone Ash, Blind Illusion
 TRACK LISTING: -CD ONE-
1. Kamakazi
2. Nightmare On Secret Town Road
3. Freedom Passed Me By
4. Who Am I?
5. Death Noise
6. World That's An Illusion
7. Life Goes On
8. The Watcher
9. Death Is Grey
10. Rockers Unite
-CD TWO-
1. The Watcher
2. Who Am I?
3. Kamakazi
4. Death Is Grey
---