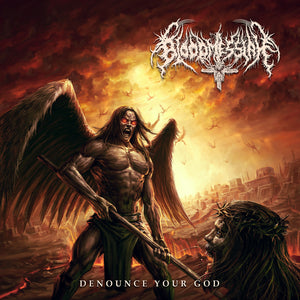 CDN Records
BLOODMESSIAH - Denounce Your God
Regular price
$9.99
$0.00
Unit price
per
LABEL: CDN Records
BLOODMESSAIAH is a Florida-based death metal band formed by Ronnie Parmer. In the vein of old school death metal, it doesn't venture far from bands such as Deicide or Morbid Angel. With tasty, classic heavy riffs, thunderous drums, ripping solos and evil incarnate vocals and lyrics. Mike Vredeveld – formerly of the Tampa, FL band Catalysis – brings the fury on vocals.
Ronnie Parmer fills out the rest of this onslaught. He writes and performs all the music on the first two BLOODMESSIAH albums. He has drummed, sessioned and/or worked with such bands as Amon, Malevolent Creation, Brutality, Angelcorpse, Perdition Temple and Immolation, to name a few.
FOR FANS OF: Malevolent Creation, Angelcorpse, Immolation, Morbid Angel
TRACK LISTING:
1. 
The Gates Will Burn
2.
Betrayed By The Light
3. Denounce Your God
4. Spread The Holy Ashes
5. Escape The Flesh
6. We Are The Watchers
7. Delusion Of Christ
8. Demon Seed
---