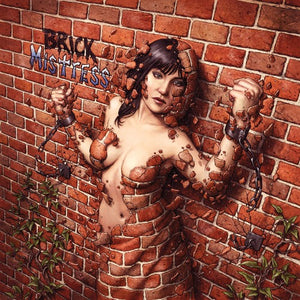 Stormspell Records
BRICK MISTRESS - Anthology (2-CD Deluxe Edition)
Regular price
$13.99
$0.00
Unit price
per
LABEL: Stormspell Records
Cult classic metal band from Pittsburgh, PA whose classic line up consisted of guitarist Jim Dofka, bassist Brian Mihalovich and drummer Steve Moore, who would later be the core of the bands Dofka and Psycho Scream. 
This special anthology release includes practically everything the band ever recorded between 1988 and 1993, including a special 2018 bonus track.
CD comes packaged in a jewel case with a thick glossy booklet with extensive band story and tons of archive photos.
FOR FANS OF: Chastain, Apocrypha, Crimson Glory, Vicious Rumors
TRACK LISTING:-CD ONE--"RISE OR FALL" DEMO (1990)-
1. Nine Lives
2. The Slave
3. There Is No More
4. Electric Chair
5. Rise Or Fall
-"BRAND NEW TRACK" DEMO (2018)-
6. Fight The System
-"4-TRACK RECORDING" DEMO (1989)-
7. Wolf In The Fold
-"SELF TITLED" DEMO (1989)-
8. P.O.W.
9. Wall Of Ice
10. No Sign Of Light
-CD TWO--"THE CHILLICOTHE SESSIONS" DEMO (1993)-
1. Art Of Psychiatry
2. Non Existent
3. Child Of Many Names
4. Over The Edge
5. Hold The Secret
6. Synchronicity
7. Change Your Fate
8. Release Me
9. Make The Choice
-"THE BOOKINGS TAPE" DEMO (1988)-
10. Fight To Be Free
---