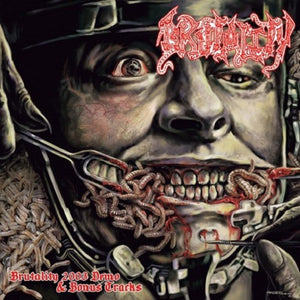 Vic Records
BRUTALITY - 2003 Demo + Bonus Tracks
Regular price
$11.99
$0.00
Unit price
per
LABEL: Vic Records
BRUTALITY formed in 1986 under the name Abomination and released their first self-titled demo the next year. In 1988, they changed their name to BRUTALITY. At this time, the band's line-up consisted of Larry Sapp on guitar and vocals, Jeff Acres on bass and vocals, and Ken Karg on drums. The band recorded four demos and signed a worldwide record deal with Nuclear Blast in the early 90's.
In 1993, they recorded their debut album "Screams of Anguish". Still a true classic from the Florida death metal scene. After their second album "When the Sky Turns Black" (1994) and third album "In Mourning" (1996) BRUTALITY split up.

In June 2001 BRUTALITY reformed, including founding members Sapp and Acres, and Scott Riegel on vocals again. This line up existed from 2001 to 2005 and record one demo in 2003. The demo became very hard to find as it wasn't sent out to many labels and the split of the band soon after.
The booklet contains extensive liner notes and rare and never before published pictures. Cover art by Thomas Pinheiro (Possessed, Hirax, Malevolent Creation). Bonus to the demo are 8 instrumental versions and versions with different vocalists.
FOR FANS OF: Brutality, Resurrection, Hellwitch, Astaroth

TRACK LISTING:-2003 DEMO-
1. As Darkness Falls
2. I Deny
3. Ashes & Snow
-BONUS TRACKS-
4. 
Valley Of The Kings
5. Gates Of Thorn
6. 
I Deny [Sapp Lead Vocals]
7. 
I Deny [Acres Lead Vocals]
8. 
Ashes & Snow [Instrumental]
9. I Deny
 [Instrumental]
10. As Darkness Falls
 [Instrumental]
11. 
As Darkness Falls
 [Drums Only]
12. I Deny [Drums Only]
13. Ashes & Snow [Drums Only]
---