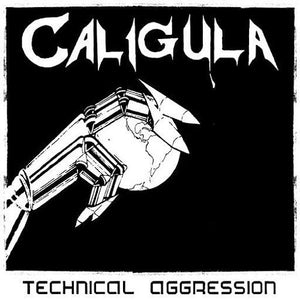 Ripping Storm Records
CALIGULA - Technical Aggression (1987 Demo) [OUT OF PRINT]
Regular price
$17.99
$0.00
Unit price
per
LABEL: Ripping Storm Records (2020)
NOTE (9/20/23): This title is officially OUT OF PRINT as per Ripping Storm Records. We have approximately 6 copies left in stock and then they're gone for good.
If you were a devoted fanzine collector or tape trader during the undergrounds heyday, the name CALIGULA should automatically be ingrained in ones mind. Fast forward to present day, "Technical Aggression" remains a sought after gem among collectors and copies of the original cassette going for upwards of $150.00.
Italy's Ripping Storm Records have unveiled this treasure, which until now, has remained hidden in the deep underground.
CALIGULA formed in 1984 in New York City and were part of that legendary wave when punk and metal bands started crossing each other's territory and playing shows together. CALIGULA raised their banner high playing shows with the likes of WHIPLASH, CARNIVORE, SHEER TERROR, CRUMBSUCKERS, AGNOSTIC FRONT, REST IN PIECES, and many more. "Technical Aggression" is their 1987 Demo featuring five songs of fast and violent thrash metal that betrays the hardcore influence only in its speed and in the super-aggressive approach.
This 2020 reissue features a 12-page booklet, an entire live performance recorded in 1987 at the famed CBGB's in Brooklyn, NY, 2 additional live recordings from 1988, and quality remastering by the folks at Toxic Basement Studios.
FOR FANS OF: Dark Angel, Holy Terror, Whiplash, Num Skull
TRACK LISTING:
1. The Killing Of Time (1987 Demo)
2. Crippled Youth (1987 Demo)
3. Paralysis (1987 Demo)
4. Euthanasia (1987 Demo)
5. Caligula (1987 Demo)
6. The Killing Of Time / Crippled Youth (Live At CBGB's 1987)
7. Depth Charger (Live At CBGB's 1987)
8. Paralysis (Live At CBGB's 1987)
9. Hidden Corruption (Live At CBGB's 1987)
10. Social Insecurity (Live At CBGB's 1987)
11. Euthanasia (Live At CBGB's 1987)
12. Terrorist Invasion (Live At CBGB's 1987)
13. Caligula (Live At CBGB's 1987)
14. Splinter Of The Mind (1988 Live)
15. The Decline Of Morality (1988 Live)
---