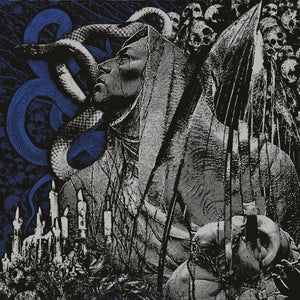 Selfmadegod Records
CAMERA OBSCURA TWO (CO2) - D.O.D.
Regular price
$5.99
Sale price
$9.99
Unit price
per
LABEL: Selfmadegod Records
CAMERA OBSCURA TWO (or CO2) is led by Alberto Penzin, formerly of Italian thrash legends Schizo, on four-string bass, joined by Giulio The Bastard (Cripple Bastards) on vocals, Andrea Ragusa (Pestem, Mass Turbo) on five-string bass, Marco Mastrobuono (Hour Of Penance, Inno) on guitars, and Giuseppe Orlando (Novembre, Catacomb, Inno) on drums.

Following their 2019 split 7″ EP with Schizo, CO2's "D.Ö.D." was tracked in Italy by M. Mastrobuono and G. Orlando at Kick Recording and Outer Sound Studios with additional tracking by Carlo Altobelli and Graziano Manuele at Toxic Basement Studios / Ueickap Studio, and with additional guitar and bass tracked in Poland by Haldor Grunberg at MAQ Records / Satanic Audio, plus additional drum parts recorded by Wilfred Ho in Hong Kong. The record was mixed and mastered by Mastrobuono and Orlando at Kick Recording Studio and completed with illustrations and cover design by Szymon Siech.
Two of the tracks were originally written and performed by Schizo in the 1980s and 1990s, and the record features guest musicians Marco Montagna on additional lead guitars and Steven Fischer with additional effects and underground cinematics.
FOR FANS OF: Schizo (Italy), Napalm Death, Brutal Truth, Terrorizer
TRACK LISTING:
1. My Ways Are Not Your Ways
2. To Bleed To Feel Alive
3. Stalked By The Eye Of No God
4. Need For Limited Loss
5. (She's) The Enemy
6. The Bitterest Drop (Part 1)
7. (Hidden Track)
8. Swamp Angel
9. Deathless
---