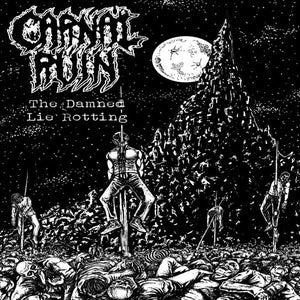 Redefining Darkness Records
CARNAL RUIN - The Damned Lie Rotting
Regular price
$9.99
$0.00
Unit price
per
LABEL: Redefining Darkness Records (2020)
CARNAL RUIN is a four piece Death Metal band from Tampa, Florida. After self-releasing two demos, "Immortal Domain" (2018) and "Gnosis Of The Dead" (2019), Floga Records (Greece) took note and released a compilation consisting of both demos entitled "Gnosis Of Immortal Domain" at the beginning of this year.
The band quickly went back to work and focused on creating their most ambitious material to date, effectively achieving a new level of intensity and brutality which resulted in a 4 song EP called "The Damned Lie Rotting".
Always drawing on their hometown roots, "The Damned Lie Rotting" is an amalgamation of the Tampa Death Metal sound with additional influences ranging from Entombed, Grave, Unleashed, Bolt Thrower, Napalm Death, and more. And with former Redefining Darkness Records artist Graveview vocalist, Hunter Young, at the helm, the band sound more potent than ever!
Comes with an 4-page booklet and is limited to 500 copies.
FOR FANS OF: Malevolent Creation, Morbid Angel, Entombed, Monstrosity
TRACK LISTING:
1. Elder Spell
2. Scholomance
3. Ode To The Conquered (As The Damned Lie Rotting)
4. Iniquitous, Devout
---