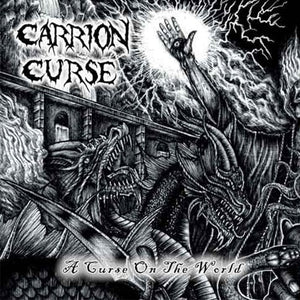 Indie
CARRION CURSE - A Curse on the World
Regular price
$9.99
$0.00
Unit price
per
LABEL: Independent
We caught these guys live at The Brass Mug in Tampa, Florida at the Chuck Schuldiner Tribute show and they delivered.

"Curse of the World" is the bands second release (first on CD) featuring 11 tracks of true to form Florida Death Metal.

CARRION CURSE, from Tallahassee, formed in 2014 and have been crushing their way throughout the State ever since. The band features former members of Grimwar and Rotted Remains.
FOR FANS OF: Death, Monstrosity, Benediction, Brutality
TRACK LISTING:
1. Regurgibirth
2. The Blood Eagle Soars
3. I Am Possessed
4. A Curse Of The World
5. Pick Your Poison
6. I'll Take Your Head
7. The Beast Awakens...
8. From The Depths
9. Bittersweet Taste Of Defeat
10. Keeper Of Realms
11. The Death State  
---