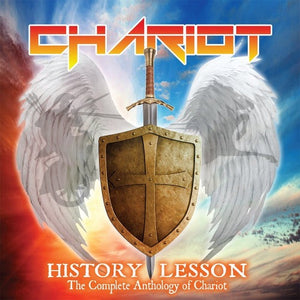 Roxx Records
CHARIOT - History Lesson: The Complete Anthology
Regular price
$11.99
$0.00
Unit price
per
LABEL: Roxx Records
This one was a labor of love for all involved. Roxx Records are excited to be able to bring you this collection for the first time ever on CD and this package is a work of art.
Classic Metal band CHARIOT hailed from Florida and released two full length albums on cassette tape only. Those have been much sought after tapes for fans of classic U.S. Metal the world over for many years. After finally tracking down all the members and getting them all back together Roxx Records were able to get this compilation together for all to finally enjoy in the highest quality ever.
Both "Tell The World" and "Step Into Light" have been meticulously remastered by Rob Colwell of Bombworks Sound, and features brand new cover art and an extensive layout by Scott Waters of No Life Til Metal Graphics.
The music is the best it has ever been and the booklet was extended to 16 pages and includes a history lesson on the band, many unpublished photos from the bands archives and complete lyrics for every single track.
This is a true collectible that will be released as a one time Limited Edition CD pressing of only 500 copies.
FOR FANS OF: Y&T, Tokyo Blade, Riot, (early) Def Leppard
TRACK LISTING: -"TELL THE WORLD" (1985 Demo)-
1. Constant Confusion
2. Don't Forget The Love
3. I Can See
4. One More For Heaven
5. On and On
6. Look
7. Survive
8. Go Tell The World
9. For You
-"STEP INTO LIGHT" (1987 Armor Records)-
10. Step Into Light
11. Wise Eyes
12. Voice
13. 2000
14. Nothing's Changed
15. Reflections
16. Know For Sure
17. Truth
---