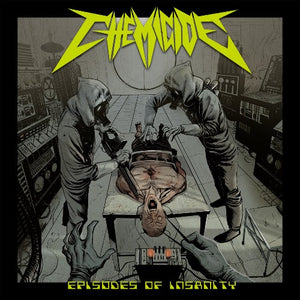 PRC Music
CHEMICIDE - Episodes Of Insanity
Regular price
$9.99
$0.00
Unit price
per
LABEL: PRC Music
Costa Rica's CHEMICIDE delivers face melting Thrash influenced by the Bay Area gods Exodus, Metallica ("Kill 'em all") and Testament and the legendary Teutonic riff lords Kreator with a certain tangible "Southern feel" delivery akin to Sepultura's better days ("Schizophrenia").
The crushing guitar riffs, the awesome leads, the tight drumming and addictive vocal arrangements are all wrapped up in a solid bottom heavy production, making "Episodes of Sanity" and CHEMICIDE a worthy opponent to new underground heroes Ultra-Violence, Battery, Havok and Bio-Cancer, to name but a few. Thrash will conquer!
FOR FANS OF: Kreator, Exodus, Havok, Bio-Cancer
TRACK LISTING:
1,
Dehumanize
2. Thrash Will Conquer
3.
Vespers Of Nuclear Devastation
4. Justifier
5. Science Of Death
6.
Social Face-Off
7. Road To Apocalypse
8. 
Radioactive Annihilation
---