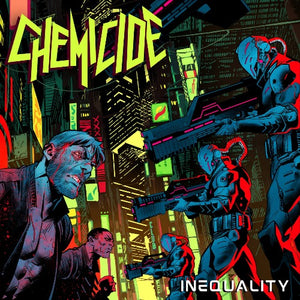 PRC Music
CHEMICIDE - Inequality
Regular price
$11.99
$0.00
Unit price
per
LABEL: PRC Music
Costa Rica's best Thrash exports 3rd full length album, "Inequality", takes the very best elements of the band's previous work and gives it more personality! Heavier, aggressive, groovier and oh so catchy, "Inequality" is destined to be a modern classic for everybody into the old school thrash revival phenomena!
This being said, rest assured CHEMICIDE is far from being "just another band" and this third outing proves once and for all the quartet is here to stay and is sharper than most new bands coming out within the same genre.
CHEMICIDE is definitely a band you need to investigate specially if you are a fan of the good old sound of the Bay Area and Teutonic thrash scene.
FOR FANS OF: Kreator, Exodus, Havok, Bio-Cancer
TRACK LISTING:
1, Inequality
2. Altered Reality
3. Indoctrination
4. Conditioned Liberty
5. State Of Emergency
6. Paralysis
7. Overload
8. Rebellion Manifesto
9. 
Bullet (Misfits cover)
---