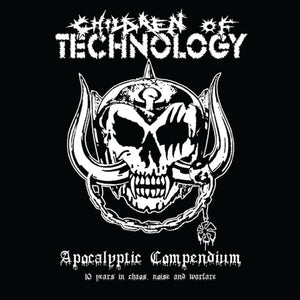 Hells Headbangers Records
CHILDREN OF TECHNOLOGY - Apocalyptic Compendium: 10 Years in Chaos, Noise and Warfare
Regular price
$5.99
Sale price
$9.99
Unit price
per
LABEL: Hells Headbangers Records
For over decade now, these Italian speed metalpunks have been ruling the post-apocalyptic wasteland with their own brand of crazed 'n' crusty warfare noise. After two critically acclaimed albums (at the time if this release) through HELLS HEADBANGERS, 2010's "It's Time to Face the Doomsday" and 2014's "Future Decay", Italian speed metalpunks CHILDREN OF TECHNOLOGY returned with a career-spanning collection of singles and splits.
Fittingly titled "Apocalyptic Compendium: 10 Years in Chaos, Noise and Warfare", this exhaustive 17-track compilation displays the band in all their ragged glory, rushing through nearly 50 minutes of pure, nitrous-infused metalpunk.
If one band could hypothetically encapsulate the Mad Max films in both visual, and especially musical form, then CHILDREN OF TECHNOLOGY would be it - and here's the perfect introduction to their wild wasteland!
FOR FANS OF: (early) Onslaught, Nuclear Assault, Wild Dogs, Toxic Holocaust
TRACK LISTING:
1. Deathsquad Bombing In Downtown
2. Mayhemic Speed Anarchy
3. Computer World
4. Submit To Extinction
5. Postnuclear Quarantine 2011 A.D.
6. Chaosmutant Hordes
7. Rise Of The Nightrider
8. On The Road Again
9. V8 Nitro Engine
10. Give Me Gasoline, Or Give Me Death
11. You Don't Move Me (I Don't Give A F**k)
12. Children Of Technology (Intro)
13. Postnuclear Quarentine
14. No Fuel, No Hope
15. The Road Warriors
16. Vultures Over Cities And Flames
17. Death's Fury
---