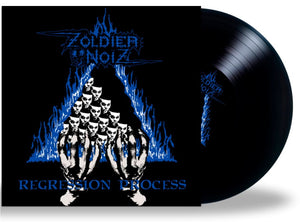 Ripping Storm Records
ZOLDIER NOIZ - Regression Process (Limited Edition Vinyl)
Regular price
$22.99
$22.99
Unit price
per
LABEL: Ripping Storm Records
EDITION INFORMATION: Limited pressing of 400 units on black vinyl world wide, 350 gram cardboard jacket, 250 gram insert, outer plastic bag.
ZOLDIER NOIZ from France have been active since 1999 and this is their second album after "Schizoid Reject" from 2009. This is some rousing old school metal at its best, raw thrash sometimes bordering crust and sometimes accelerating to neck-breaking speed. Harsh and throaty vocals and a general "fuck you all" attitude. Expect some unpolished analog-sounding production which is just perfect with this sound.
FOR FANS OF: (Early) Voi Vod, Bolt Thrower, Celtic Frost
TRACK LISTING: -SIDE A-
1. Grave Crawler
2. Random Justice
3. Tomorrow Is Today
4. Regression Process
-SIDE B-
5. Dread Relieves
6. Vacant Worlds
7. Ebola Syndrome
8. Filthy Few
9. 
Life Under Will
---