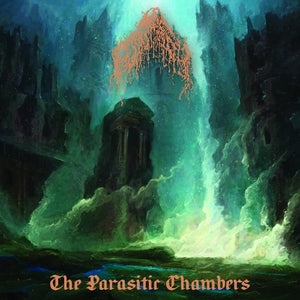 Memento Mori Records
CONJURETH - The Parasitic Chambers [OUT OF PRINT]
Regular price
$11.99
$0.00
Unit price
per
LABEL: Memento Mori Records
NOTE (10/26/23): This title is officially OUT OF PRINT as per Memento Mori Records. We have approximately 5 copies left in stock and then they're gone for good.
Second full-length by this U.S. band. Although they formed in 2018, CONJURETH went on a tear starting in 2020, unleashing two demos, "Foul Formations" and "The Levitation Manifest", which all culminated in their debut album for Memento Mori. Ominously titled "Majestic Dissolve", CONJURETH´s first full-length achieved its goal: continuing the traditions forged by the originators of Death Metal, and then some.
Now, CONJURETH return with an album that arguably eclipses that all-too-considerable predecessor: "The Parasitic Chambers". Keenly understanding that Death Metal doesn´t need to change -or rather, the wheel doesn´t need reinvention- CONJURETH turn that wheel with even more power and poise than before whilst keeping their core sound intact.
Imagine late 80´s Tampa receiving strange and unsettling transmissions from Finland a few years ahead. If "Majestic Dissolve" celebrated the past giving birth to the future, then "The Parasitic Chambers" is the sound of that future beginning to beautifully rot. Graced with yet another mesmerizing cover courtesy of Erskine Designs, "The Parasitic Chambers" continues CONJURETH´s ascent as one of the most time-warping bands around!
FOR FANS OF: Deicide, Incantation, Grave, Morbid Angel
TRACK LISTING:
1.
Smothering Psalms
2.
Dimensional Ascendancy
3.
Devastating Cataclysmic Unearthing
4.
Cremated Dominion
5.
Deathless Sway Of Torsos Calm
6.
A Blood Romance
7.
The Ancient Presence
8.
In Mortal Thresholds
9.
From Ceremonies Past
10.
The Unworshipped II
---