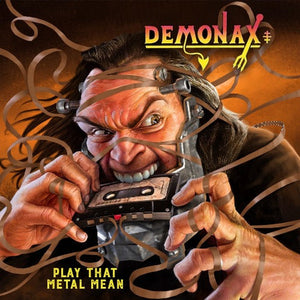 Heaven & Hell Records
DEMONAX - Play That Metal Mean (1985 Demos)
Regular price
$12.99
$0.00
Unit price
per
LABEL: Heaven & Hell Records
East Coast Speed Metal co-formed in Hartford, Connecticut in 1984 by future Fates Warning guitarist Frank Aresti.
Like most high school bands, guitarist Frank Aresti, bassist Brian Reagan, drummer John Gardiner and vocalist Keith Bycholski would begin as a cover band playing songs by their favorite artists; Iron Maiden, Black Sabbath, Ozzy, and Dio, to name a few. However, it would not be long after that the foursome would discover a new fledgling style called "Thrash" which was a blend of hardcore punk and heavy metal that resonated with their teenage angst and frustration.
"What was it about this music that was so special to us? Perhaps it was rebellious. Perhaps it reflected our teen frustrations and anger. Maybe we just identified with its raw power and tremendous energy. One thing is for sure: we embraced it and had our own ideas of what we wanted to be." - Frank Aresti
Inspired by this new aggressive style the band began to compose songs that they would mix into their setlist for live gigs along with the cover tunes. It would not be long until the band would record their first demo and begin spreading it throughout the underground network by tape trading. They would also submit the demo to several zines and record labels. Reviews and several more gigs would follow and eventually DEMONAX would return to the studio to record a full-length album.
"Everything that the underground metal scene meant to us translated into our lyrics. "Evil's Cast Aside" denounced the Satanism that bands clung to for the sake of the media's attention. "No More Rats" challenged the anemic, homogenized state of commercial metal. "Underground" was our anthem: the flag that we staked stating our message and intentions." - Frank Aresti
Like their 13th Century namesake, the band DEMONAX with its unspoken philosophy of cynicism would also slip into obscurity.
CD comes packaged in a jewel case with a 12 page booklet, rare photos, liner notes by Frank Aresti and full lyrics. Limited pressing of 500 units worldwide.
FOR FANS: Slayer, Razor, Exciter, Exodus
TRACK LISTING:
1. Underground
2. Evil's Cast Aside
3. No More Rats
4. Down On Your Knees
5. Headlock
6. Intro (Instrumental)
7. Power Of Dark
8. Lay Down The Law
9. Play That Metal Mean
10. Authority
11. 
Subterfuse (Instrumental)
-BONUS TRACKS-
12. Play It Loud [Demo]
13. Lay Down The Law [Live 1985]
14. Play That Metal Mean [Live 1985]
15.
 Subterfuse/Underground [Live 1985]
16. Metal Atmosphere [Live 1985]
---