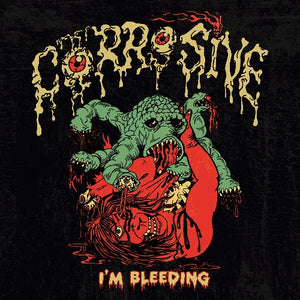 Awakening Records
CORROSIVE - I'm Bleeding [Reissue]
Regular price
$11.99
$0.00
Unit price
per
LABEL: Awakening Records
The debut and only full-length album by American Death/Thrash act CORROSIVE, "I'm Bleeding", has officially been reissued by Awakening Records for the first time in nearly 30 years!
Missouri-based CORROSIVE was founded in early 1991 and hit the local mid-western Metal scene with its first show at the legendary Club 367 on July 10 of that year. With memorable local shows and opening for legendary Death and Thrash Metal bands, CORROSIVE finally released its debut full-length album in 1994 after having a few failed demo attempts.
CORROSIVE disbanded in 1996 as the band members pursued other projects. Now this severely underrated album returns to Earth with 36 minutes of aggressive and uncompromising material dedicated to all madmen with a passion for underground extreme metal.
CD packaged in a jewel case with 20 page booklet and OBI strip.
FOR FANS OF: Oppressor, Gorguts, Monstrosity, Suffocation
TRACK LISTING:
1.
Asphyxiated
2. I'm Bleeding
3.
Skull F***er
4.
The Factory
5. Nick
6.
No Surprise
7. Death Dream
---