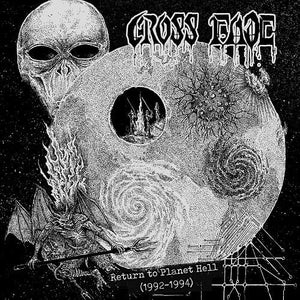 Memento Mori Records
CROSS FADE - Return to Planet Hell: 1992-1994
Regular price
$10.99
$0.00
Unit price
per
LABEL: Memento Mori Records
"A Return to Planet Hell" compiles all three demos recorded between 1992-1994 from Long Island, New York's CROSS FADE.

This must have demo anthology release has been restored and subtly remastered for a more pleasurable listening experience. The 16-page booklet features lyrics, photos, bio and liner notes by former members Scot Trollan and John Colucco, and features cover art by César Valladares.
Absolutely recommended to fans of spastic Death/Thrash Metal with a vocalist that sounds like a mentally deranged John Tardy.
FOR FANS OF: Sadus, Epidemic, Atheist, Ripping Corpse
TRACK LISTING:-"CROSS FADE" DEMO (1992) -
1. Black Knight
2. When The Battle's Over
3. Mystery Of Illusion
4. I've Seen Tomorrow
-"RUINED" DEMO (1992)

 

-
5. Endlessly
6. I Fear No Evil
7. Night Of The Gods
-"UNTITLED" DEMO (1994)

 

-
8. We Shall Overcome
9. The Winds Of Change
10. Mystery Of Illusion
---