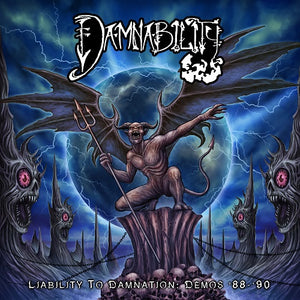 ThrashBack Records
DAMNABILITY - Liability To Damnation: Demos '88-'90
Regular price
$11.99
$0.00
Unit price
per
LABEL: ThrashBack Records
RELEASE DATE: September 2, 2022
LOW STOCK ALERT (10/5/23): Low Stock on a ThrashBack Records CD release is when a particular title goes below 100 units.  This title now has 99 units remaining before it goes out of print.
On August 26, 2022 THRASHBACK RECORDS will release "Liability To Damnation: Demos '88-'90" from New Jersey Thrashers DAMNABILITY.
Formed in 1988, DAMNABILITY quickly began to stake their claim in the Mid-Atlantic sharing the stage with the likes of Sepultura, Armored Saint, Wrathchild America and Faith or Fear at such legendary clubs as The Empire Rock Club, L'Amour Brooklyn and G. Willikers.
DAMNABILITY would issue three "official" demos between 1988 and 1990. Though label interest was high, the band sadly dissolved in 1992 before a deal could be reached.
This 2022 reissue has been remastered from the best available sources by Rob Colwell at Bombworks Sound, new cover art was handled by Sidjimbe Art Studios and a brand new interview was conducted with vocalist / guitarist Jeremiah Reale by Chris Forbes of the legendary Metal-Core Fanzine.  CD is packaged in a jewel case with a 12-page booklet packed with rare archival photos.  CD is limited to a one time pressing of 300 copies worldwide.
FOR FANS OF: (early) Megadeth, Bitter End, Forced Entry, Acrophet
TRACK LISTING:
-DEMO 1988-
1. Roboticide
2. Demon
3. Not Long Before The End
4. She's Too Fat
-DEMO 1989-
5. American Flag
6. Gruesemoda
7. Day In The Life
-DEMO 1990-
8. Hatchet Man
9. Roboticide
10. Accidental Existence
11. Mooncrickets (Another World)
---