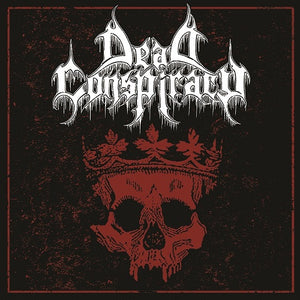 Memento Mori Records
DEAD CONSPIRACY - Dead Conspiracy [Reissue]
Regular price
$10.99
$0.00
Unit price
per
LABEL: Memento Mori Records
The sophomore full-length album from this cult U.S. band. Formed in 1986, DEAD CONSPIRACY is to this day considered by many as a pioneer and influence to Death/Gore Metal bands worldwide.
Originally released on vinyl, tape and digital in November 2016, "Dead Conspiracy" features 9 tracks of the band´s trademark Thrash Metal-edged, Punk-infused, evil-minded, vicious and unadulterated savagery that should definitely appeal to fans of other primal and unrefined Death Metal acts that helped shape the genre in the 80´s, such as Nunslaughter, Necrophagia, Mantas/Death, Master, Incubus, Possessed, Deceased, Autopsy/Abscess, Terminal Death, Massacre, Exmortis, Repulsion, Slaughter, N.M.E...
"Dead Conspiracy" is a powerful album, even after many repeated listens. It displays everything you need in old school Death Metal to display: bone-crunching riffs, pounding breakdowns and speed delivered with anger, atmosphere and energy by a band that´s riddled with acrimonious motivation and a burning passion for the genre.
So dig up your favorite cadaver to sit with while you get kick your ears kicked in, for the deadliest have now returned!!!
FOR FANS OF: Autopsy, Deceased, Dark Angel, Necrophagia
TRACK LISTING:
1. Blood Everywhere
2.
In the Wake Of The Butcher
3.
The Earth Rots In A Grave
4.
Cruelty Through Ripping Torture
5. Born Again Massacre
6.
Antietam / Vultures Feeding
7. The Edge Of Darkness
8. Crawling Dead
9.
Paralyzed With Terror
---