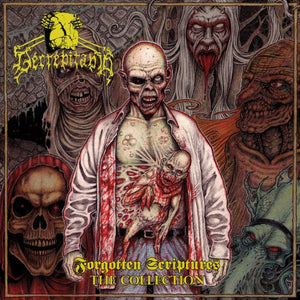 Selfmadegod Records
DECREPITAPH - Forgotten Scriptures: The Collection
Regular price
$6.99
Sale price
$9.99
Unit price
per
LABEL: Selfmadegod Records
"Forgotten Scriptures: The Collection" compiles tracks from various split 7" and 12" releases, as well as a previously unreleased rehearsal track.

The 13-song CD is definitely a must have for all fans of DECREPITAPH and their morbid, heavy and doomy Death Metal.
FOR FANS OF: Asphyx, Rottrevore, Derketa, Depravity
TRACK LISTING:
1.
Vengeance Of The Abyss (Unreleased Rehearsal Track)
2. Rot In The Grave (S
plit 7" with Anatomia)
3.
Paradise In Decomposition (Split 7" with Eternal Solstice)
4.
Obsessed With Oblivion (Split 12" with Offal)
5.
Throne Of The Diabolical Ones (Split 7" with Eroded)
6.
Forever Christ Forsaken (Split 7" with Eroded)
7.
Resurrected... (Intro) ("Resurrecting and Rotting" 7")
8.
Apocalyptic Pandemonium ("Resurrecting and Rotting" 7")
9. The Undead Shrines
 (
"Resurrecting and Rotting" 7")
10. ...Rotting (Outro) ("Resurrecting and Rotting" 7")
11. Horrid Visions Of Mutilation (Split 7" with Meathole Infection)
12. Summoned For Sacrifice (Split 7" with Father Befouled)
13. Unholy Crucifixion (Live in Houston, TX)
---