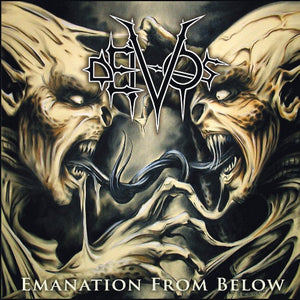 Selfmadegod Records
DEIVOS - Emanation From Below (2xCD) [Reissue]
Regular price
$9.99
Sale price
$11.99
Unit price
per
LABEL: Selfmadegod Records
Reissue of early recordings from Polish Deathmetallers DEIVOS.
"Emanation From Below" is a 2-CD collection featuring the bands debut album the same name. The material was recorded in the famous Hertz Studios in Bialystok, Poland back in 2006 and originally released on cult EMPIRE RECORDS. The second disc features the out of print "Hostile Blood" EP (Butchery Music 2003) as well as the "Praised By Generations" demo (1999), which has never been released on CD until now.

CD is packaged in a standard jewel case and includes 20 page booklet with tons of never before seen band photos from their early period.
FOR FANS OF: Suffocation, Cryptopsy, Decapitated, Morbid Angel
TRACK LISTING:-CD ONE: EMANATION FROM BELOW-
1.
Blackness Incarnate
2. No Father Of Mine
3.
Realm Of Desecration
4. War March
5.
Divine Defilement
6. Battle For Dominance
7. Hatebound
-CD TWO--"HOSTILE BLOOD" EP (2003)-
1. Chasm Climber
2. Hostile Blood
3. Encircled By Nothingness
4. Scarcity Of Suffering
5. Throw Off The Fetters
-"PRAISED BY GENERATIONS" DEMO (1999)-
6. Praised By Generations
7. Beginning Of True Journey
8. Endlessly Alive Fire
9. Servant Of Insanity
10. Achiever Of Nothing
---