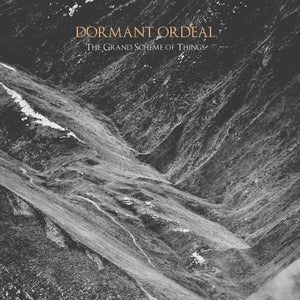 Selfmadegod Records
DORMANT ORDEAL - The Grand Scheme Of Things
Regular price
$5.99
Sale price
$9.99
Unit price
per
LABEL: Selfmadegod Records
DORMANT ORDEAL's third full length, and Selfmadegod debut, features 8-songs of  technical, dissonant and intense Death Metal played with great skill and precision.
"The Grand Scheme Of Things" was recorded, mixed and mastered with producer Paweł "Janos" Grabowski at JNS Studio (Antigama, Hate, Riverside, Lost Soul, Masachist, Imperator). 
4-panel digipak with UV spot varnish and a 12-page booklet.
FOR FANS OF: Morbid Angel, Hate Eternal, Decapitated, Fleshgod Apocalypse
TRACK LISTING:
1. At The Garden's Gates
2. Poetry Doesn't Work On Whores
3. Bright Constellations
4. Here Be Dragons
5. Letters To Mr. Smith
6. Let The Light In
7. Sides Of Defence
8. The Borders Of Our Language Are Not The Borders Of Our World
---