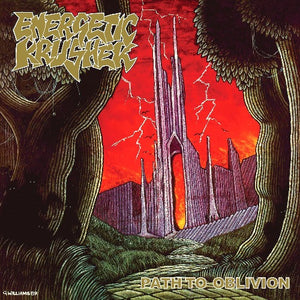 Awakening Records
ENERGETIC KRUSHER - Path To Oblivion [Reissue] (2-CD)
Regular price
$13.99
$0.00
Unit price
per
LABEL: Awakening Records
England's relentless Death/Thrash treasure ENERGETIC KRUSHER's debut and only full-length album "Path to Oblivion" has been officially reissued by Awakening Records as a double CD featuring all of the band's material and a bonus unreleased track.
Hailing from the UK, ENERGETIC KRUSHER is an obscure metal band that has left an indelible masterpiece in the Death and/or Thrash Metal archives. Originally released on vinyl in 1989, "Path to Oblivion" is a fast and heavy album filled with crushing death and thrash riffs, mostly played very fast, but interspersed with some mid-tempo headbanging riffs, the ups and downs of which will make you thrash your brains out. Highly recommended for all fans of old-school Thrash and Death Metal!
CD packaged in a jewel case with 16 page booklet and OBI strip.
FOR FANS OF: Morbid Saint, Sepultura, Hellbastard, Demolition Hammer
TRACK LISTING:-CD 1-
1.
Lord Of Darkness
2. The Blast
3. Thrash Ritual
4.
The Blades
5. Battle Cry
6.
Brain Damage
7. Yukk
8.  War Path
9. Back From The Dead
10. Path To Oblivion
-"LIVE IN BRADFORD" (1989)-
11. 
Lord Of Darkness
12. Brain Damage
13. Yukk
14. 
Thrash Ritual
15. The Blast
16. War Path
17. Cold Blooded Killers
18.  The Blades
19. Energetic Krusher
-"LIVE IN NEWCASTLE" (1989)-
20. S.K.I.V.E.E.
-CD 2-
-"001" DEMO (1988)-
1. Lord Of Darkness
2. Yukk
3. Thrash Ritual
4. War Path
5. S.K.I.V.E.E.
6. Battle Cry
7. Back From The Dead
8.  Cold Blooded Killers
-"SEVERE BOMBARDMENT" DEMO (1989)-
9. Locust
10. Cold Blooded Killers
11. Severe Bombardment
12. Date With Death
13. Furnace Of Fire
14. Freddy Krueger
15. Severe Bombardment (w/ Panda on vocals)  
-ADDITIONAL BONUS TRACKS-
16. Cold Blooded Killers [New Source]
17. Possessive Hammering [Rehearsal]
---