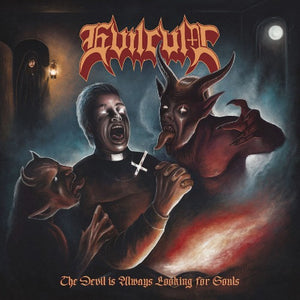 Awakening Records
EVILCULT - The Devil Is Always Looking For Souls
Regular price
$11.99
$0.00
Unit price
per
LABEL: Awakening Records
Well-concocted brew of speed, black, thrash, and heavy metal!

Reverence for the ancient spirit is very strong but never outdated. The EVILCULT's mission is always to look to the future carrying the true and shimmering torch of heavy metal, so that it never goes out between modernities and fads, crossing the boundaries of the style itself developed more than 40 years ago.

On EVILCULT's sophomore album, the band walks safely between styles, giving much more dynamics to the work. They came to a perfect mix between speed metal, first wave black metal, traditional heavy metal, thrash metal old school, and perhaps some more influences not so explicit, but that are there.
CD packaged in a jewel case with 12 page booklet and OBI strip.
FOR FANS OF: Sodom, Bathory, Witchtrap, Whipstriker
TRACK LISTING:
1. Ancient Power
2.
The Devil Is Always Looking For Souls
3.
Chants Of The Night
4. Call Of Evil
5. Die In Hell
6.
Speed Metal Fire
7. The Witch
---