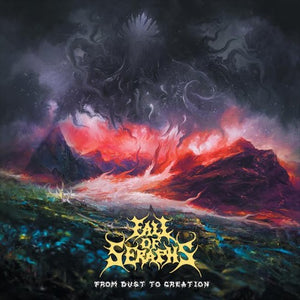 Memento Mori Records
FALL OF SERAPHS - From Dust to Creation
Regular price
$10.99
$0.00
Unit price
per
LABEL: Memento Mori Records
Debut album from France's FALL OF SERAPHS, whose brand of Death Metal is proudly anchored in the tradition of yore, relying on heaviness, malignancy and non-excessive technicality, shrouded in total and almost palpable blackness, and displaying a remarkable sense of vitality and dynamism that always keeps the listener busy and wondering what´s coming next in their (apparently) everlasting feast of headbang-inducing riffs and sharp-yet-beautifully executed leads. "From Dust to Creation" is a literally massive first full-length bound to create all-devouring waves. RECOMMENDED!
FOR FANS OF: Deicide, Immolation, Vader, Morbid Angel

TRACK LISTING:
1.
The Eradication Dogma
2.
Mirror Of Transcendence
3.
Divine's Lament
4.
Fire Path Of Punishment
5.
Psychotic Troubled Senses
6.
From Dust To Creation
7.
Brood Of Decomposition
---