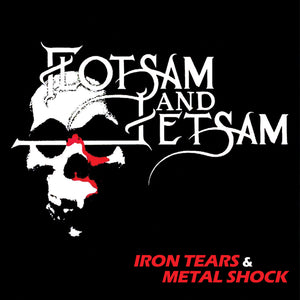 Vic Records
FLOTSAM & JETSAM - Iron Tears & Metal Shock [1985 Demos]
Regular price
$13.99
$0.00
Unit price
per
LABEL: Vic Records
Legendary  speed / thrash metal demos now re-issued on CD!
"Iron Tears" was FLOTSAM & JETSAM'S 2 track debut demo from 1985. The 4 track "Metal Shock" demo (1985) contains the only recordings of the tracks "The Evil Sheikh'" and "The Beast Within"!
This special release features a 16 page booklet with rare photos and an extensive interview with founding member Kelly Smith, three special live bonus tracks from 1984 & 1985 including "Hammerhead" live in Jason's Apartment (1985) and "She Took An Axe" (Live at the Pony Express 1985). 9 tracks in total.
FOR FANS OF: Flotsam & Jetsam
TRACK LISTING:-"IRON TEARS" DEMO (1985)-
1. Iron Tears
2. I Live, You Die
-"METAL SHOCK" DEMO (1985)-
3. Hammerhead
4.
The Evil Sheikh
5. I Live, You Die
6. The Beast Within
-BONUS LIVE TRACKS-
7. Iron Tears (Live 1984)
8. Hammerhead (Live 1985)
9. She Took An Axe (Live 1985)
---