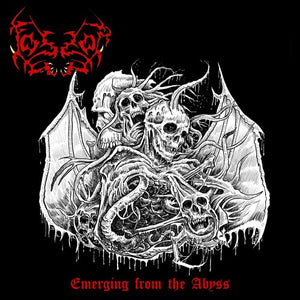 Memento Mori Records
FOSSOR - Emerging From the Abyss (1994 Demo)
Regular price
$9.99
$0.00
Unit price
per
LABEL: Memento Mori Records
For the first time ever on CD format, here comes an official reissue of the obscure and solitary demo of the old Spanish band FOSSOR, originally released on tape back in 1994.
FOSSOR first burst into the Spanish underground Death Metal scene back in August 1993, in the small northern town of Logroño. It came into being as a spin-off from the first two Aposento line-ups, another legendary then Spanish band and local pioneers of the genre. Their music approach was logically rooted in the soundings of the genuine and still effervescing international Death Metal scene, taking their cues from the ancient Florida sound (Obituary, Massacre and most specifically "Leprosy" and "Spiritual Healing" era Death) and the European tradition of bands such as Benediction, Entombed, Asphyx, Grave and Gorefest.
Despite the lack of a proper distribution and promotion, "Emerging from the Abyss" would end up gaining some recognition within the underground domestic ranks and also positive reviews in places remote as Asia and other European countries, including the insertion of the song "The Bastard Son of God" on the 1995 compilation "Sometimes... Death is Better II" put out by the Belgian label Shiver Records.
A truly unmissable gem of the 90´s underground and happily exhumed at last, this very special reissue of "Emerging from the Abyss" was mastered by Dan Lowndes (of Cruciamentum fame) at his own Resonance Sound Studio in the U.K., and features brand new artwork by Raul Fuentes (a.k.a. Mortuus) as well as a fully detailed bio-interview conducted and compiled by David Bleak (Bleak ´zine).
FOR FANS OF: Death, Massacre, Gorefest, Benediction
TRACK LISTING:
1.
The Bastard Son Of God
2. Holocaust
3. Terminal Phase
4.
Suffer The Torment
5. Immortal Soul
6. Deformed
---