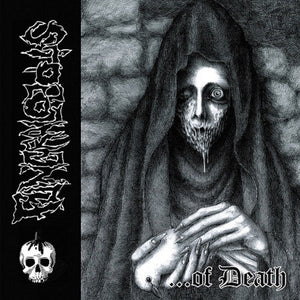 Memento Mori Records
FUNERALOPOLIS - ...of Death [Demo] + ...of Prevailing Chaos [EP]
Regular price
$10.99
$0.00
Unit price
per
LABEL: Memento Mori Records
A CD that compiles the 2010 demo and the 2013 EP by this Swiss band.
FUNERALOPOLIS was awoken under the name Human Waste in 2006. With vocalist Void joining the band in 2009, they changed the name to FUNERALOPOLIS. Void left the band shortly after, but the name stayed. They started recording the first demo, titled "...of Death", with a slightly different lineup (guitar-desecrator Thuri also took on vocals) under horrible circumstances in only 48 hours (including mixing and mastering). The tape was released as a co-release between Dark Descent Records and Skeleton Plague.
Several years and beers later, the recording of the "...of Prevailing Chaos" EP took place at Hidden Stash Studios, with a slightly different lineup. It was summoned in 2013.
Essential for those whole like it raw, dark, and brutal..
FOR FANS OF: Autopsy, Dark Throne, Incantation, (early) Sodom
TRACK LISTING:
-"...OF DEATH" DEMO (2010)-
1. The Wrath (Of The Dead)
2. Day Of Mourning
3. The Pit Of Death
4. Devouring Crypts Of Darkness
5. Existence Beyond
-"...OF PREVAILING CHAOS" EP (2013)-
6. Intro (Tonight I Will Possess Your Corpse)
7. Euphoric Blasphemy
8. Curse Of Darkness
9. Achluophobia
10. Bo' nguloth
11. Beneath Deathless Depths
12. Tale Of A Mass
---