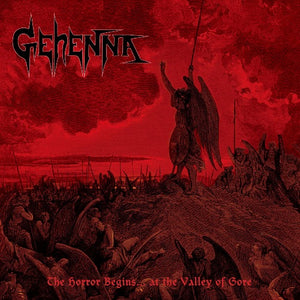 Awakening Records
GEHENNA - The Horror Begins... at the Valley of Gore ('91-'92 Demos)
Regular price
$11.99
$0.00
Unit price
per
LABEL: Awakening Records
CULT CLASSIC DEATH METAL GEM FROM AMERICA!

GEHENNA hails from Johnstown, Pennsylvania, and was formed in the early 90s by bassist Joe Lombard and drummer/vocalist Rick "Slim" Boast and independently released two killer demos on cassette, "The Horror Begins" and "Valley of Gore".

All tracks were re-mastered by the band's original guitarist/vocalist Craig Stiles in 2015. Awakening Records is proud to officially reissue the true classic death metal material for the first time on CD, includes numerous early photos of the band, flyers, and a biography written by the original members.
Dedicated to all fans of OLD SCHOOL DEATH METAL!

CD packaged in a jewel case with 12 page booklet and OBI strip.
FOR FANS OF: (early) Pestilence, Morbid Angel, Experiment Fear, Disincarnate
TRACK LISTING:
-"THE HORROR BEGINS...

" DEMO 

(1991)"-
1. The Beauty Of Gore
2. Decapitated
3. Grotesque Dismemberment
4. Cannibalistic Devourment
5. Human Inferno
-"VALLEY OF GORE" DEMO (1992)"-
6. Face Meat
7. Desecrated Life
8. Projectile Vomiting
---