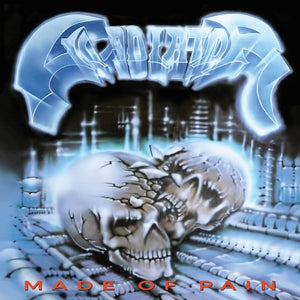 Divebomb Records
GLADIATOR - Made Of Pain [Anniversary Edition]
Regular price
$15.99
$0.00
Unit price
per
LABEL: Divebomb Records (2023)
GLADIATOR formed in the Alekšince area of western Slovakia during the late-'80s, eventually making their proper debut in 1992 with the Designation album—introducing their take on rugged thrash metal that struck a balance between speed and crunch. It is the quartet's sophomore album, Made Of Pain, though—originally issued in 1993 by Škvrna Records—that is often spoken of by underground metal fanatics as GLADIATOR's finest output.
Frequently compared to Slayer and especially Sepultura, Made Of Pain presented 37 minutes of tighter, more focused songwriting that remained true to the band's aggressive thrash roots, while exploring a hint more melody and increasingly intricate musicianship. The following year, however, GLADIATOR gravitated toward a more grunge-inspired sound, which marked the first step toward establishing the band as a major label rock outfit that remains active to this day. Thus, Made Of Pain turned out to be the final expression of the group's ferocious metal inception.
Having not appeared on CD since 1993, original copies of Made Of Pain have become extremely rare, fetching hundreds of dollars on the collectors' market, so Divebomb Records is excited to present this officially licensed reissue. Fully remastered by Jamie King Audio.
CD comes packaged in a jewel case with an 12-page booklet including photos and lyrics.
FOR FANS OF: Sepultura, Slayer, Sacrifice, Sadus
TRACK LISTING:
1. Made Of Pain
2. Blood
3. Sound Of Deep Silence
4. Warsouls
5. Creator Of Hell
6. No Fate
7. Debtor Of Rest
8. My World
9. Your World
10. For All Gods
---