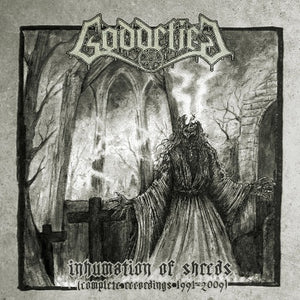 Memento Mori Records
GODDEFIED - Inhumation of Shreds: Complete Recordings 1991-2009
Regular price
$11.99
$0.00
Unit price
per
LABEL: Memento Mori Records
Repress of this OOP and sought-after Memento Mori compilation CD, originally released in 2014.
Sunlight Studio... Tomas Skogsberg... Boss HM-2 Heavy Metal pedal... You just can´t go wrong with those premises when it comes to old school Swedish Death Metal, and that's exactly what you´ll get from GODDEFIED, an obscure yet legendary act hailing from the small city of Karlskoga, about 200 Km away from Stockholm.
Formed back in 1990 under the moniker Enshrined, GODDEFIED, along with God Macabre, Wombbath, Nirvana 2002, Abhoth and Toxaemia (amongst many others) belonged in a second wave of Swedish bands that drew their influences from the seminal recordings of Nihilist/Entombed, Dismember and Carnage, and helped establish and perpetuate what would become one of the strongest scenes in the history of Death Metal, as well as one of its most recognizable and particular sub-genres soundwise.
This compilation of all the material that GODDEFIED ever recorded is indeed a small yet worthy piece of Death Metal history itself. From the raw-sounding "Assembly of the Damned" demo recorded in an amateur-ish local studio in 1991 (only 100 copies pressed) under the band´s early inception as Enshrined, to 2009´s "Remnants of the Art" EP, and through the cult and highly sought-after 1993´s "Abysmal Grief" EP (actually recorded at Sunlight Studio and produced by Mr. Skogsberg), GODDEFIED take you on a nostalgia trip back to a time when the "buzzsaw" guitar tone reigned supreme and thousands of worldwide fans gave in to Swedish Death Metal.
Featuring no remastering at all (only a slight volume retouch has been executed for an even more pleasurable listening experience), and also including liner notes by the band, some previously unreleased songs and alternative takes on some of the band´s classic tunes, and a fantastic artwork and layout by Cesar Valladares, "Inhumation of Shreds: Complete Recordings 1991-2009" is definitely a must for all fans of über-classic Swedeath to eagerly enjoy: the shreds have been inhumated for thee!
FOR FANS OF: Entombed, Dismember, Grave, Gorefest
TRACK LISTING:-"ASSEMBLY OF THE DAMNED" DEMO

 

(1991)-
1. Benediction
2. The Realm
3. Assembly Of The Damned
-"UNKNOWN" DEMO

 

(1992)-
4. Zephaniah Dwells
5. Resurrections Beyond
6. Abysmal Grief
-"ABYSMAL GRIEF" EP

 

(1993)-
7. Blaspheme In Blood
8. Zephaniah Dwells
9. Abysmal Grief
10. Spiritually Deceased
11. Left To Die
12. Inhumation Of Shreds
-"REMNANTS OF THE ARTS" 7" EP (2009)-
13. Devoured
14. Remnants Of The Art
15. Zephaniah Dwells
-"UNRELEASED" DEMO

 

(2019)-
16. Do The Zombie
17. King Of Disease
18. Soul Breeder
19. Spiritually Deceased
---