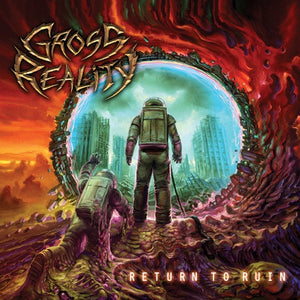 Divebomb Records
GROSS REALITY - Return To Ruin
Regular price
$11.99
$0.00
Unit price
per
LABEL: Divebomb Records (2023)
Reformed in 2009 after an initial early-'90s run that surprisingly yielded no recorded output (but saw the group sharing the stage with everyone from Bolt Thrower and Cannibal Corpse to Confessor and Type O Negative), Raleigh, NC thrash unit GROSS REALITY has returned once more with the long-awaited follow-up to 2017's "Escaping Gravity".
Produced, mixed, and mastered by Jamie King Audio, the nine-song, 46-minute "Return to Ruin" finds the original trio of Daniel Powell (bass/vocals), Roland Arthur (guitars), and Jason Wheeler (drums) joined by new guitarist Dylan Glotzer to explore the continuing saga of two psychonaut travelers stretching through mind-bending dimensions.
"Return to Ruin" is just the latest addition to an impressive GROSS REALITY discography that displays a tendency toward taut, high-energy riffing with undercurrents of melody and subtle, progressive technicality that never abandons the importance of well-crafted songs. Thus, the album will effortlessly appeal to generations of fans of both classic and contemporary thrash metal alike.
FOR FANS OF: Havok, Revocation, Evile, Exmortus
TRACK LISTING:
1. Carbon Shadows
2. Soul Substance
3. Prison Planet
4. Mind At Large
5. Time Portals
6. Nightmare Hall
7. Dark The Sun
8. Return To Ruin
9. Solitary Hypnosis
---