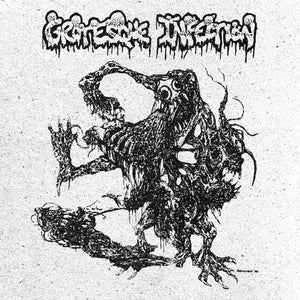 CDN / Growl Records
GROTESQUE INFECTION - 1991 & 1992 Demos
Regular price
$9.99
$0.00
Unit price
per
LABEL: CDN / Growl Records
A definitive demo anthology release from the bowels of Niagara Falls, New York.
GROTESQUE INFECTION formed in 1989 and recorded two demos, "Festering Wounds" (1991) and "Consumption of Human Feces" (1992), before disbanding in 1994.
This special CD release includes both demos and a previously-unreleased live set containing two unreleased songs, recorded in May of 1993 at the Niagara Falls Ontario Deathfest.
Remastered by Lasse at Ballade Studios in Copenhagen, Denmark.
FOR FANS OF: Cannibal Corpse, Broken Hope, Rottrevore, Malignancy
TRACK LISTING: -"FESTERING WOUNDS" DEMO (1991)-
1. Deformed
2. Festering Wounds
3. The Worms Of Decay
4. Rotted To The Cross
-"CONSUMPTION OF HUMAN FECES" DEMO (1992)-
5. Consumption Of Human Feces
6. Autopsy Juices
7. Stagnant Fumes Of Decomposure
8. Feverish Diarrhea
9. Monstrous Offspring
10. Rotted To The Cross
-"LIVE AT THE NIAGARA FALLS ONTARIO DEATH FEST" (1993)-
11. Stagnant Fumes Of Decomposure
12. Consumption Of Human Feces
13. The Worms Of Decay
14. Deteriorating Skin
15. Stool Sample
16. Rotted To The Cross
---