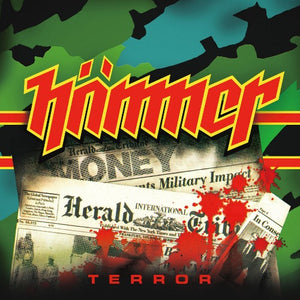 Awakening Records
HÄMMER - Terror [Reissue]
Regular price
$11.99
$0.00
Unit price
per
LABEL: Awakening Records
Polish Thrash Metal band HÄMMER started its career in the year 1987. In the second half of 1988, the band recorded the debut album "Sherman". It was a sign of its time when aggressively spreading thrash epidemy was causing long-term and non-reversible outcomes.

In 1990, HÄMMER recorded the second full-length called "Terror", which was released a year later. The band's music tends to mature with a more technical and progressive style. The first official reissue of this great album by Awakening Records, includes one unreleased track, numerous early photos, flyers, as well as a biography of the band, and the story behind the album.

CD packaged in a jewel case with 16 page booklet and OBI strip.
FOR FANS OF: Mekong Delta, Sacrifice, Anacrusis, Wolf Spider
TRACK LISTING:
1. Terror
2. Street Fighter
3. Shut Up
4. Inside Looking Out
5. Monsters
6. Angels Wrath
7. This Is War
8. Old Man
9. Stick The Banner
10. Man In The Mirror [Unreleased 1991 Demo Track]
---