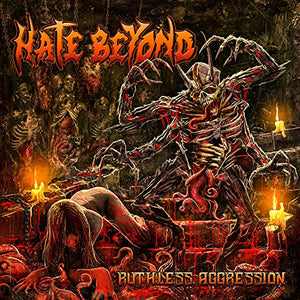 Jackhammer Music
HATE BEYOND - Ruthless Aggression [Remaster - Japan Import]
Regular price
$10.99
Sale price
$13.99
Unit price
per
LABEL: Jackhammer Music
Re-Mixed and remastered edition of this Japanese bands 5th album.

Crushing hybrid of Thrash meets the modern era of Malevolent Creation.  Features the inventive guitar work of former Narcotic Greed axeman Warzy.  Essential.

FOR FANS OF: Ritual Carnage, Malevolent Creation, Narcotic Greed, Thanatos
TRACK LISTING:
1.
Intro (Instrumental)
2. Decomposed
3.
The Incident Began
4. Greedy For Fame
5. Future Burned
6. The Nemesis
7. Red Eyes
8.
Ruthless Aggression (Instrumental)
9. Bloodstuck
10. Live Wire [Bonus Track]
---