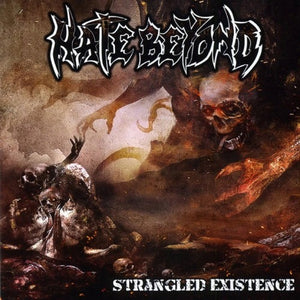 Jackhammer Music
HATE BEYOND - Strangled Existence [Japan Import]
Regular price
$10.99
Sale price
$13.99
Unit price
per
LABEL: Jackhammer Music
Indomitable and defiant! This is a true feat demonstrating the hidden power of overcoming adversity. Facing the terrible realities of a pandemic, the crushing limitations of quarantine and travel bans, HATE BEYOND never sat back.
A new international lineup blazed forward and created their most audacious work. French drummer Max Ducat (Deadly Whispers) is part animal, part machine...and elevates this band to new lethality. Moreno Grosso (No Return) returns on vocals and delivers a superior performance. Not just relying on his thrash and death metal chops, but actually attempting a different approach that recalls Kreator and Exodus, thrust into the apocalypse. Bass duties handled expertly by American Jorge Caicedo (Exhorder). A powerful player from Louisiana with the hybrid know-how to play metal, punk, and jazz.  HATE BEYOND's ultimate weapon is Japanese guitarist Warzy, the katana claws of shred. Known for his thrash metal and solo guitar compositions, "Strangled Existence" is a master class of metal, technical and scary!
FOR FANS OF: Ritual Carnage, Malevolent Creation, Narcotic Greed, Thanatos
TRACK LISTING:
1. Lost Projects
2. Your Answer, Your Gun
3. L.S.A.
4. Hell And Back
5. Different Views
6. No More Silence
7. Be Free, Be Brave
8. Brainwashing To Destroy
9. The Nemesis [Bonus Track]
---