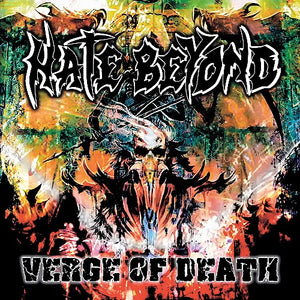 Jackhammer Music
HATE BEYOND - Verge of Death [Remaster - Japan Import]
Regular price
$10.99
Sale price
$13.99
Unit price
per
LABEL: Jackhammer Music
Remastered edition of this Japanese bands 4th album.  Includes two re-recorded songs from their third album "Bonded In Hell" with the present lineup as bonus tracks.

Crushing hybrid of Thrash meets the modern era of Malevolent Creation.  Features the inventive guitar work of former Narcotic Greed axeman Warzy.  Essential.

FOR FANS OF: Ritual Carnage, Malevolent Creation, Narcotic Greed, Thanatos
TRACK LISTING:
1. Perpetual Pain
2. Verge Of Death
3. Forced Into Suicide
4. Demigod
5. Gray World
6. Raging Fire Burning
7.
Endless Mortality
8. Assassin
9. Fall To Twisted
10. Violent Anger
11. Defeat Impossible
12. Slaughter Of The Innocents
13. Eternal Damnation
14. Fatally Perish [Bonus Track]
15. South Back Stabbed [Bonus Track]
---