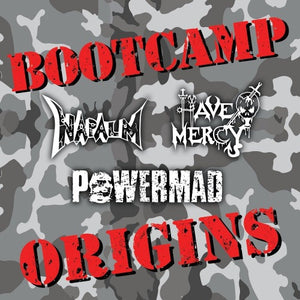 Divebomb Records
HAVE MERCY / NAPALM / POWERMAD - Bootcamp Origins
Regular price
$12.99
$0.00
Unit price
per
LABEL: Divebomb Records
NOTE (4/14/23): This title is almost OUT OF PRINT as per Divebomb Records and can no longer order copies from them. We have approximately 2 copies left in stock and then they're gone for good.
Legendary metal label, Combat Records, began their Boot Camp series in the mid-80's as an affordable way to test the market for newer bands of interest. Over twenty years later we at Divebomb Records, who were highly influenced by the original series, decided to pick up the torch and kick start their own brand of the Bootcamp Series.
Due to its overwhelming popularity the series has now reached its 25th release and we thought of no better way to celebrate this milestone than by reissuing the original Combat Records Boot Camp compilation CD featuring Maryland's HAVE MERCY, New York's NAPALM and Minnesota's POWERMAD.
Loaded with band supplied photos, vintage magazine articles as well as a new essay featuring excerpts of a discussion with Combat Boot Camp founder, Steve Sinclair. Includes a 20 page booklet and remastering by Jamie King.
TRACK LISTING:
-HAVE MERCY-
1. Intro
2. Mass Destruction
3. City Of Doom
4. Holy Dismissal
5. Faces Of Death
6. No Forgiveness
-NAPALM-
7. The Monarch
8. Tunnel Rat/All Out Assault
9. Evil Speak
10. Freedom Day
-POWERMAD-
11. Chasing The Dragon
12. Terminator
13. Plastic Town
14. Nice Dreams
15. Blind Leading The Blind
---