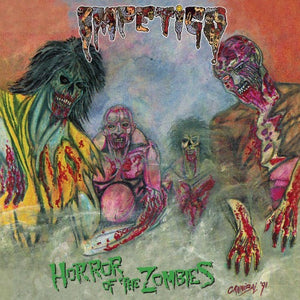 Vic Records
IMPETIGO - Horror of the Zombies [Reissue]
Regular price
$13.99
$0.00
Unit price
per
LABEL: Vic Records
"Horror of the Zombies" is the second album by American death metal / grindcore band Impetigo.
Originally released in 1992 on the cult Wild Rags! Records, "Horror of the Zombies" was a major influence in the grindcore and goregrind scenes.
"Horror of the Zombies" has a much more structured and varied approach than their debut album "Ultimo Mondo Cannibale".  The songs are longer and the production on this album is thick and full. The music is still very much old school death metal and is truly a gore masterpiece... everything about it reeks of a B grade zombie movie.
This 2023 reissue features extensive liner notes by bassist / vocalist Stevo, two bonus tracks, alternate artwork and many rare photos packed into a 32 page booklet.
FOR FANS OF: (early) Carcass, Repulsion, Autopsy, Master
TRACK LISTING:
1. Boneyard
2.
I Work For The Streetcleaner
3. Wizard Of Gore
4.
Mortuaria
5. Cannibale Ballet
6.
Trap Them And Kill Them
7. Cannibal Lust
8. Defiling The Grave
9. Staph Terrorist
10.
Bitch Death Teenage Mucous Monster from Hell
-"LIVE AT CLUB BABY HEAD" (1992)-
11. Defiling The Grave
12. Breakfast At The Manchester Morgue
---