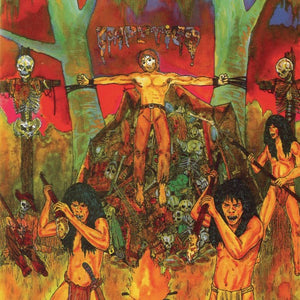 Vic Records
IMPETIGO - Ultimo Mondo Cannibale [Reissue]
Regular price
$13.99
$0.00
Unit price
per
LABEL: Vic Records
Re-issue of cult Horror Grind legends IMPETIGO's debut album (1990) and follow up EP (1991), both originally released on Wild Rags! Records.
This 2022 reissue features extensive liner notes by bassist / vocalist Stevo, as well as many rare photos, packed into a 32 page booklet.
Also includes two live tracks recorded in 1992 at the Rhode Island Deathfest.  Essential for fans of the band and the genre.
FOR FANS OF: (early) Carcass, Repulsion, Necrophagia, Mortician
TRACK LISTING:
1.
Maggots
2.
Dis-Organ-Ized
3. Intense Mortification
4.
Revenge Of The Scabby Man
5.
Venereal Warts Part 3
6. Bloody Pit Of Horror
7. Dear Uncle Creepy
8.
Bitch Death Teenage Mucous Monster from Hell
9. Zombie
10.
Jane Fonda Sucks Part 2
11. Red Wigglers
12. 
Harbinger Of Death
13.
Unadulterated Brutality
14. 
Mortado
15.
Bad Dreams

16. Who's Fu**ing Who?
17. 
Heart of Illinois
18. My Lai
-"FACELESS" EP (1991)-
19. Sinister Urge / Faceless
20. Dis-Organ-Ized
21. Bloody Pit Of Horror
22. Mortado
-"LIVE AT RHODE ISLAND DEATHFEST" (1992)-
23. Bloody Pit of Horror
24. Intense Mortification
---