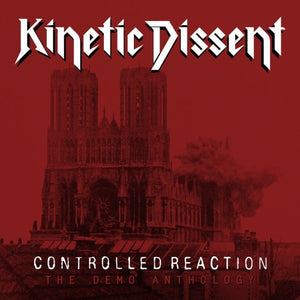 Divebomb Records
KINETIC DISSENT - Controlled Reaction: The Demo Anthology
Regular price
$12.99
$0.00
Unit price
per
LABEL: Divebomb Records (2020)
The infancy of Atlanta, GA's KINETIC DISSENT dates back to around 1984 with a small group of friends writing and recording initial ideas in a four-track home studio. Having immediately set out to be an all-original band, once solidified as KINETIC DISSENT in 1987, the group quickly set out to work on a six-song demo, "The Fall of Individualism", that same year. The core lineup—Dwight Irvin (vocals), Stephen Danyo (guitar), and Ed Reimer (drums)—was then joined by new bassist Troy Stephens and the return of early guitarist Rick MacConnell. As a five-piece, the band commenced performing live and subsequently recorded the four-song "Controlled Reaction" demo in 1988 at Audio Animations in Smyrna, GA.
The strengths of that demo landed KINETIC DISSENT a deal with Roadrunner imprint Roadracer Records. The label covered the band for one night at Musicplex Studios in Atlanta to demo four new songs that would eventually be re-recorded for their full-length debut. That album, "I Will Fight No More Forever" (1991)—the group's lone proper release—remains an unsung masterpiece of truly unique and innovative progressive thrash metal. However, despite having opened for the likes of Death Angel, Pantera, Type O Negative, Fates Warning, etc., KINETIC DISSENT never received proper tour support to promote the album. Danyo left, and the remaining quartet self-financed the recording of three new songs in 1992. Roadracer decided to pass, and within a year this promising young outfit had run its course far too soon.
Now, nearly three decades later, Divebomb Records is excited to present "Controlled Reaction: The Demo Anthology"—a complete, 17-track collection of all of KINETIC DISSENT's demo recordings. This marks the material's first time on CD, with several tracks being presented for the first time ever! Completely remastered by Jamie King Audio, the disc will be packaged with one of the label's trademark thick booklets, complete with a retrospective interview with the band, conducted by Konstantin Chilikin of Stay Heavy fanzine. For the fans, by the fans!
FOR FANS OF: Heathen, Realm, Toxik, Forte
TRACK LISTING:
-"CHANNEL ONE SESSIONS" (1992)-
1. Strike The Tent
2. Reason To Riot
3. Solitaire (Waiting For The Alarm)
-"ROADRUNNER RECORDS SESSIONS" (1989)-
4. Novocaine Response (Sadness Screams)
5. Social Syndrome
6. Banished
7. Cults Of Unreason
-"CONTROLLED REACTION" DEMO (1988)-
8. Choose Your Fate
9. Cultured Illogic
10. 12 Angry Men
11. Faces Of The Fallen
-"THE FALL OF INDIVIDUALISM" DEMO (1987)-
12. Distorted Truth
13. Reflected Fear
14. Dark Inside The Light
15. Driven To Insanity
16. Hollow Corporation
17. The Price Of Defense (M.A.D.)
---