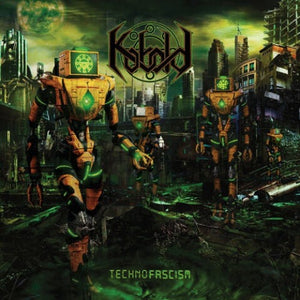 Jackhammer Music
KOBOLD - Technofascism [Japan Import]
Regular price
$11.99
Sale price
$13.99
Unit price
per
LABEL: Jackhammer Music
Serbian Thrashers third full length album released on Japan's Jackhammer Music! 
The Balkan country of Serbia has been described as bedraggled yet thriving…a place of much beauty that is also war torn and toxic. Such a perfectly poetic breeding ground for thrash and speed metal, wielded by the landlocked nation's strongest, KOBOLD.
The bands third full length album, "Technofascism", is their heaviest and most ambitious. No small feat for this trio that has developed a new vicious approach to the metal they love. It is a fresh take on speed and thrash that draws from the elders (Exodus, Mercyful Fate, Anthrax) but forces the music to evolve. Fans will also hear a heavy German influence (Living Death, Kreator).
The riffs are fast and brutal, heavy and technical that can at times amaze! Killer drumming, and shredding riffs and bass. On top of that…..real live solos that would make Kirk Hammett and Gary Holt proud. Guitars are handled expertly by Elio Rigonat, who also sings with an amazing ferocity. He has an uncanny ability to utilize almost three different voices to terrorize the listener, including a higher range John Connelly (Nuclear Assault) attack that really sets him apart. Why do we keep naming all these bands?!?!? Because KOBOLD is difficult to acutely describe, and that's what makes them great!
FOR FANS OF: Living Death, Nuclear Assault, Toxic Holocaust, Enforced
 LISTING:
1. Hatred Speedfuck
2. Into Purgatory
3. Empire - It Is Us
4. Soul Cacophony
5. Technofascism
6. Neosynthesis
7. Seven Tongues Of God
8. Death By Life
9. Virus
10. Ketamine
---